I wish I could give 100 stars. Super nice & very professional. I called last minute after another company failed to show. They worked us in the next day. They were thoughtful by wiping the table off due to the rain. I will definitely use them & ONLY THEM ever again. If you want dependable, trustworthy, affordable, & non stressful movers, definitely use them. Thank you all so much!!!!

These guys are great, they deserve the 5 stars. There done a great job moving me from Snellville to Roswell and I had so much furniture and boxes that it took 2 trucks to empty my house. Yet it took them less time then I anticipated for them to load and unload the 2 trucks. Alton is great and the whole crew is a pleasure to work with. They care about my valuables and did an excellent job protecting them. I highly recommend them.

They truly deserve 5 stars! Great communication before, during and after the move. They were careful with some very delicate items and super efficient. Their prices are reasonable - and best of all - by the end of the move they practically felt like family! Highly recommend.




Excellent. The best ever. Friendly. Quick. Organized and very very kind.

Thankful for the 5 star team

Using them for the second time after 3 years. And I literally went through my emails to find them as they were fantastic last time. This time in my absence too, they went the extra mile for me and got things done within time despite delays caused by other sources. And Nita has constantly informed me about the unloading and loading. Thank you Nita. You are fantastic. Thanks to the guys. They are outstanding. Great team and excellent job and exceptional service. God bless you all continuously and may you continue to branch out serve with such wonderful love and care always.

We moved across town and these guys were the best! Seriously nice guys and very careful. We moved our upright piano as well!! Nita oversees the biz side of things and was in constant contact from beginning to end. Highly recommend!

We used 5 Star to move our Physical Therapy Clinic. The guys were on time, extremely polite & knowledgeable! Some of our equipment was over 300lbs. The team came equipped & prepared. The rates were The Best I'd Found!! I highly recommend 5 Star & Move!!! Their customer service is seriously Top Notch!!

This is the BEST moving Company, Nita and all her employees are very personable, and professional, they arrived on time, got me moved out with ease.

When I first contacted 5-Star, Nita was so patient with all my questions, and her personality came through the phone. The saying is true "the first contact is the most important", I knew this was the Company for me, and I was not disappointed!

I used this company twice within 6-7 months and both times, the crew were great to work with. Very professional taking care of my belongings and personable, friendly at the same time. It's a long day when moving but with a good group of movers, it removes the stress from a typical stressful day. Highly recommend 5 Star!!

My moving day was last Wednesday. The 5 star family showed up and showed out!! Everyone was so professional and organized. They never complained about me moving to the 3rd floor and worked at a steady team pace. Don't look elsewhere...Go With The 5 Star Family!

I was extremely pleased with the professionalism and timely service I received. My items were handled with care and precision. The crew showed up on time and answered all of my questions. The price was very affordable. I strongly recommend this company to anyone looking for moving services.

I was extremely pleased with the professionalism and timely service I received. My items were handled with care and precision. The crew showed up on time and answered all of my questions. The price was very affordable. I strongly recommend this company to anyone looking for moving services.

Amazing company with first rate service!!! Professional, courteous, and conscientious from initial booking through completion of job. Al and Nita and their teams really know their business. We highly recommend 5Star Pack and Move.

I was very pleased with the customer service, professionalism, promptness, and handling of my belongings during my move. They definitely lived up the the name with 5 Star Service!

Nita, Jamaica, and 3rd mover from NY did an exceptional job moving me out of my apartment and into my new house. Professional, prompt, and careful. I would recommend them to anyone looking for competent, reliable super efficient folks to get the job done!

5star Pack and move saved our butts! We were moving a lot of stuff from Ga to Tx so, we rented a 20' ft U-Haul for the move but we probably should have gotten a 26' ft truck. They made sure we got everything into that truck with a little room to spare! They are excellent loaders ; there was nothing broken after the long trip! They were also very friendly and courteous throughout the whole loading process! Thank you 5star!

Great moving company 5Star indeed thanks to Al and his team and also Ms Nita very professional.

I moved from Miami to Georgia with my husband. He hired this company and they were absolutely amazing ! Unpacking everything from the uhaul carrying up to the third floor with ease. Even set up my bed. Most definitely a great moving company. Thanks again!

This company is absolutely 5 Star. I had to move some things when I was recuperating from an illness. I was assured that they could and would handle everything. They are professional and provided amazing customer service. Excellent!

Such a good experience with these guys! They were fast and professional. I was moved and set up in my new place under two hours. I didn't have much to move, but they were so quick. And Nita made sure everything was in order and was so down to earth. I will refer and use them again.

Very great company. I cannot say enough good things about them. From the time the appointment was made to the completion of the job I was kept up to date on everything. On the day of the move the workers were very respectful and efficient. They took care not to damage my property and were very helpful organizing the furniture in the new location. I would highly recommend the company to anyone that needs a moving company...👍👍👍.

Having had 3 bad experiences in one week with 3 different moving companies, 5star pack and move were heaven-sent, If I could give more than 5 stars I would. Nita was very professional and helpful, they came on time, they worked hard and they didn't break or scratch anything. THEY WERE ALSO VERY AFFORDABLE!!! I am very upset that I didn't find them before and am very glad that they were able to help us at the end because they gave us a great experience. No regrets !!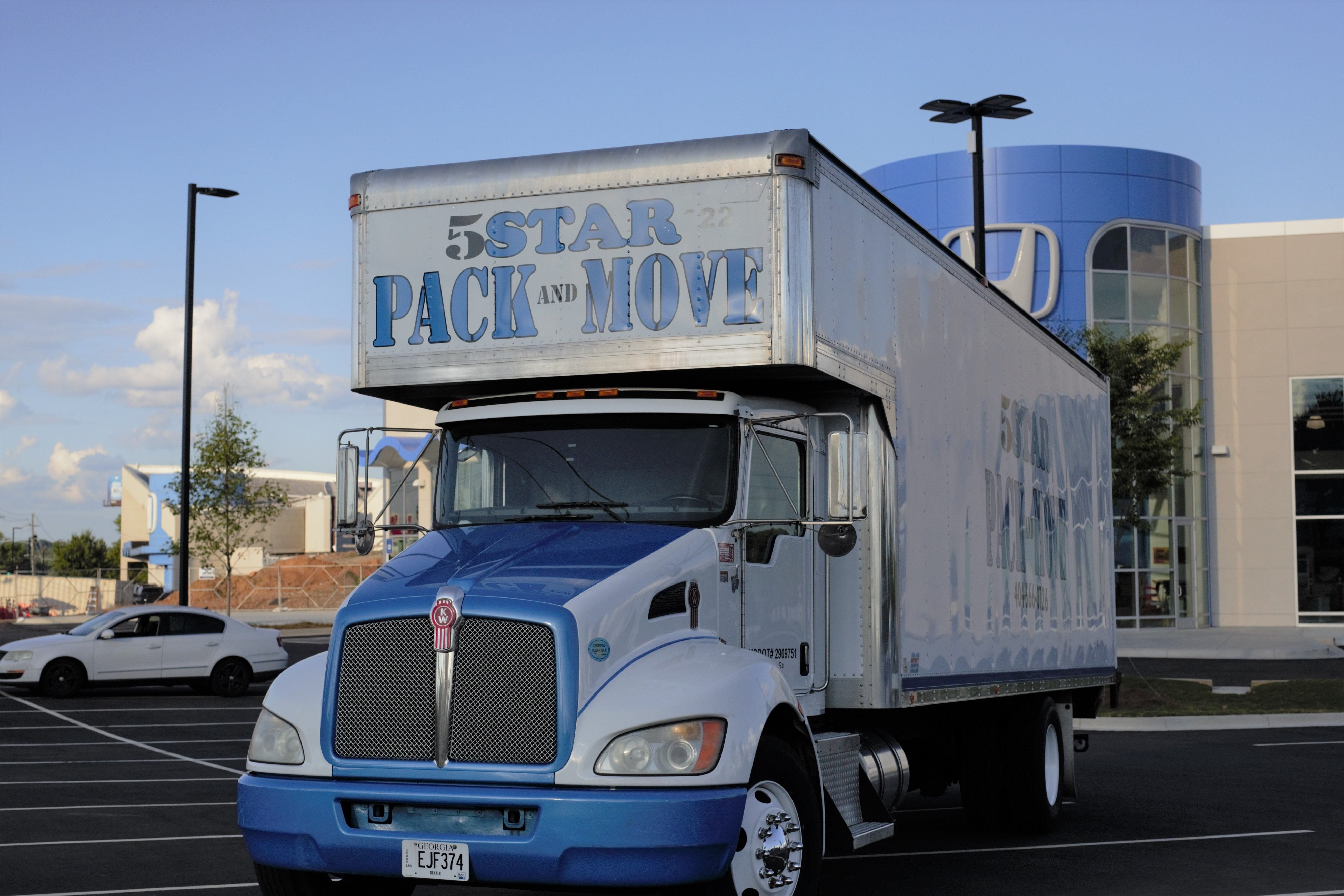 Greater Atlanta GA Residential & Commercial Movers
At 5Star Pack And Move, we're committed to providing the comprehensive services you have a right to expect from a mover. We respectfully pack your belongings up, safely transport your belongings to your new location, and quickly unpack and set up your belongings your way!
#1 Mover in Stonecrest GA
We're licensed and insured, and you can rest assured that we've completed thorough background checks on our team members who will be in your home. We'll provide a checklist, determine your packaging needs, and provide a truck suitable for your belongings and furniture.
Since 2001, we've offered our customers in Lithonia, GA and the entire Atlanta Metro area moving services such as:
We've got extensive experience with commercial moves. We understand how important it is to work closely with your move coordinator to ensure everything arrives safely at your new location.
We're located in Lithonia, GA and serve customers throughout Atlanta Metro. Our rates are reasonable, and we provide flexible scheduling. Don't stress and call 5Star Pack And Move today for movers who can handle the long haul.
Professional relocation services

Experienced movers, uniformed and supervised

Complete packing and unpacking services

Full line of packing supplies
Smoothe Moves,

Your

Way, Everyday!